The life and work of Zuzana Růžičková
1927
Zuzana Růžičková is born in Pilsen on 14 January 1927. From the age of two, she accompanies her grandmother to concerts of the Chamber Music Society and the Pilsen Philharmonic.
1936
She begins to receive private piano lessons from Marie Šašková-Provazníková, who also introduces her to the harpsichord.
1940
She is expelled from grammar school in Pilsen for racial reasons; she and her cousin Dagmar are then forced to deliver Terezín deportation notices to Jewish families in 1941.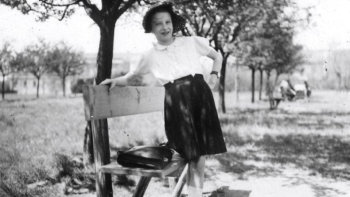 1942
She is also deported with her family to Terezín, where she meets the likes of Karel Berman, Karel Ančerl, or Gideon Klein, who teaches her music harmony.
1943
Over the course of 1943–1945, she is interned in concentration camps in Auschwitz, Hamburg, and Bergen-Belsen, where she loses her father and other members of her family. The number 73289 is tattooed on to her left arm.
1945
Although her hands are ruined by the hard labour in the extermination camps, she returns at her music school in September 1945, where she is taught the piano by the headmaster, Bohdan Gsölhofer.
1947
She successfully applies to study at the Academy of Performing Arts in Prague, where she furthers her education under Prof. Albín Šíma and then Prof. František Rauch. She also accompanies fellow students from the cello class of Prof. Karel Pravoslav Sádlo and learns to play the organ.
1949
She takes up the harpsichord as an optional subject at the Academy, under Prof. Oldřich Kredba. The programme of her first harpsichord recital on 8 November 1949 comprises works by J. S. Bach, D. Scarlatti, X. F. Dušek, J. P. Rameau, and H. Purcell.
1951
Zuzana Růžičková graduates from the Academy with a performance on 23 April. She is then employed to teach obligatory piano lessons at the university from the following autumn. One of her first students is the composer Viktor Kalabis.
1952
On 8 December 1952 Zuzana Růžičková marries Viktor Kalabis at the Old Town Hall in Prague. The couple remain together until her husband's death 53 years later, in 2006.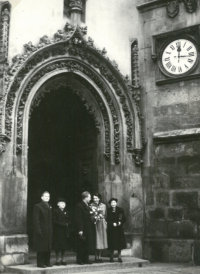 1956
Her triumph at the prestigious ARD International Music Competition in Munich earns her a scholarship stay in Paris, where she spends three months as a student of Marguerite Roesgen-Champion. This year marks the launch of her successful international career as a harpsichordist.
1958
She gives the Czechoslovak premiere of Bohuslav Martinů's
Concerto for Harpsichord
together with the Prague Radio Symphony Orchestra, which is conducted by Václav Jiráček.
1961
She is awarded the Grand Prix du disque de l'Académie Charles-Cros for her recording of
Concerto for Harpsichord
by Jiří Antonín Benda. That same year ushers in her collaboration with the violinist Josef Suk.
1966
In the years 1966–1975, Zuzana Růžičková creates the first-ever complete recording of Johann Sebastian Bach's works for keyboard instruments, released by Erato Records. The set comprises 40 LP records. The solo compositions are performed in Paris, while those for harpsichord and orchestra are recorded in Prague.
1968
The first edition of the harpsichord masterclasses at the Zurich Festwochen takes place; Zuzana Růžičková also teaches in Stuttgart, Kraków, Budapest, Riga, and Tokyo. Her students include Jaroslav Tůma, Giedré Lukšaité-Mrázková, Anikó Horváth, Borbála Dobozy, Sylvia Georgieva, Václav Luks, Monika Knoblochová, or Mahan Esfahani.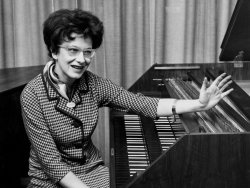 1979
From 1979 to 1990 she is engaged as a soloist of the Czech Philharmonic.
1989
She takes part in protests against the government following the events of 17 November 1989, including strikes by employees at the Academy and the Czech Philharmonic.
1990
Four decades of educational activities are recognised by her appointment as a professor at the Academy of Performing Arts in Prague. She teaches the harpsichord there until the year 2000.
2003
She is invested into the French Ordre des Arts et des Lettres; that same year she receives another award from the Czech state.
2006
Her husband Viktor Kalabis dies. Zuzana Růžičková ceases to perform in public and only accepts private pupils. She serves as the Vice President of the Prague Spring International Competition Committee and as a member of the advisory boards of the Czech Chamber Music Society and the Concertino Praga International Competition.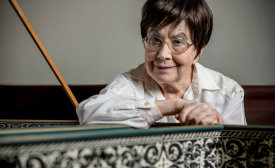 2017
Zuzana Růžičková dies in Prague
on 27 September 2019, at the age of 90.